David Dunlap Observatory (DDO) Limited Edition "Cover" (Envelope)
Attached are the final DDO limited edition stamp "cover" envelopes that I designed. Included is the Canada Post cancellation in the upper right to officially cancel the postage stamp that is affixed. Because there are two stamps in the series, I designed a second "cover" with a different photo of the DDO on the left side and then using the second stamp on the right side to be cancelled. I have only done a small number of these (50 sets). Each envelope will is $5 (set for $10).

The cancellation is as you see attached to this e-mail and is about 2.5cm (1") in size. The combination looks better and sharper than you see here. It will make a unique souvenir for IYA, whether you collect stamps or not.


If you are interested for yourself or anyone else you know that might be interested, let me know to place your order
I have included an information card about the history of the DDO, IYA and the PAA in each envelope.

For more information and to order contact :
Rick Stankiewicz
Past President PAA
Publicity Director
Light Abatement Pollution Director
10 Hazel Cres. R.R.#8
Peterborough, ON
K9J 6X9

(705) 295-6158
stankiewiczr@nexicom.net



Sample Cover 1 (Covers may not be exactly as shown)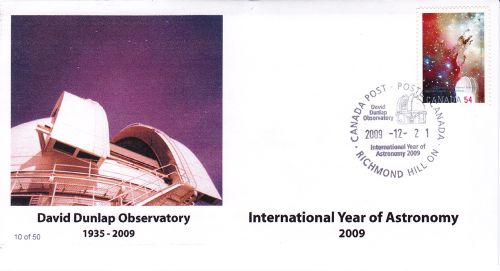 Sample Cover 2 (Covers may not be exactly as shown)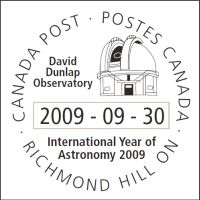 Sample Cancel