Join us for a stellar time!
See Below for
New
Registration Forms' Links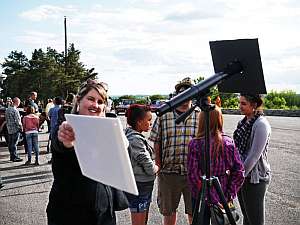 Membership rates for the Peterborough Astronomical Association are as follows:

Individual: $30/year
Family: $45/year
Student: $15/year
Sponsor: $100
Lifetime: $500

Membership benefits include:

- free edition of our monthly newsletter
The Reflector
and all back issues
- free monthly guest speakers and presentations and occasional observing session at meetings
- free access to hundreds of astro related books and DVD's from our club library
- free access to
"Loaner Telescopes"
(you do not need a telescope to join the PAA)
- free access to the
PAA Observatory
and special observing sessions at PAA members private observatories, throughout the Peterborough area
- periodic field trips to special events and places
- access to an astronomical amount of personal knowledge on a variety of subjects, by other PAA members
- entitled to PAA insignia for embroidery at Imprinted Apparel Store


Sponsor Membership benefits include:

- a full family membership with all member benefits for your family or a family of your chosing
- a presence, in the form of a logo with website link, on our website
- your logo and name in the Reflector and on some handouts and advertising
- one year membership from date of registration


To register on-line as a Regular Member click
here
.

To register on-line as a Sponsor Member click here.

To submit a paper copy via postal mail click
here
for a printable PDF version of the form.

For more information email :
Membership